Soundtrack of memories
I want to have people who love music look back on their memories of a certain album and record the significance of everything they find.
Estrella Del Sol from Mint Field
■Your name/the names of your musical project(s): Estrella del Sol Sánchez. Mint Field is the name of my band and Estrella del Sol my solo project.
■Occupation: Musician
■Date of birth: 25 of May 1996
■Where you live: Mexico City
■What does music give you: Music is the place where I feel myself in my most authentic way. It's my safe space and it's everything I want to do for the rest of my life.
■Album : 『Lonerism』 – Tame Impara
I was 16 years old and the only thing that really interested me was music.
I would listen to the same records over and over again wherever I was, lying in the grass during breaks at school or walking around Playas de Tijuana, the neighborhood where I grew up.
I also loved going to concerts. I was still a teenager, so getting permission from my mother was hard. I lived in Tijuana, on the border of Mexico and the United States, so I just had to cross the border to San Diego to see the concerts of artists I liked.
When I first heard Lonerism by Tame Impala, it was a moment that was too shocking for me. I had never heard anything like that in my life. I didn't know how to play guitar or make music properly, but my desire to make music was already coming into my life. Thanks to this album, I started getting interested in discovering new sounds, effects and pedals.
When I turned 17, I got one of the most memorable birthday presents ever: tickets to see Tame Impala on their Lonerism tour at the House of Blues in San Diego. The concert was on May 31, 2013. I remember going to school and being so excited; I had that teenage excitement where you can't really stop thinking about that thing you're so excited about―a lot of teenage euphoria.
That school day seemed to slip by very quickly and slowly at the same time. As soon as it ended, I left to cross the border to San Diego, took the trolley, and went straight to the House of Blues with my boyfriend at the time to stand in line..
With an audience of 400 people, it was not a massive event. I thought I wanted to be as close to Kevin Parker as possible, because I was interested in seeing what pedals he used and how he used them.
At the venue, I didn't just run into friends, but I got to know people standing in line too. We were all there for the same purpose and it was beautiful. We connected very easily.
Someone shared their cigarettes and we stood around smoking until the House of Blues opened. It seemed so beautiful that everyone was waiting for the show to start with the same feeling of excitement.
No matter the size of the event, I always feel overwhelmed by the special atmosphere and intensity of being at a live concert, but this show felt so intimate.
The doors finally opened, and I moved as close to the stage as possible. We were standing in the third row. Filled with nervousness and excitement, I glanced to the side of the stage and saw the members of the band. I wondered if they were feeling nervous like I was, and thinking that made them seem really close, even from where I was watching. Or maybe they were peeking to see how many people there were.
When the show started, the venue was suddenly filled with energy. The sounds of the bass, drums, synthesizers, and guitars all melted together and hit us like a wave. It was the first time I felt really aware of every sound that was going on. I looked around and I knew everyone was enjoying and feeling the same things as me. I remember having all of my emotions in a very delicate place in my mind. I felt everything so much.
Eventually, I forgot about what effect pedals Kevin Parker was using and just gave my body and mind over to the sound they were making. Every song was so special and different―I realized things that I couldn't have by just listening to the album.
It might have been not just because of their performance, but also due to being in one place filled with so much love for the music. When the band played an improvised jam during their last song, "Nothing That Has Happened So Far Has Been Anything We Could Control," my eyes filled with tears.
After the show, I headed straight for the merch table and bought a t-shirt. I wore that shirt at least three times a week for a year or so.
That show didn't just completely change the way I saw and heard music, but it also made me realize what a special experience a live show can be. From that day on, I started to see and hear music in a different way. The days after the show I kept on thinking how everything was perfectly equalized, how each song blended into the next one, and how it had been a perfect moment for me. The images of the visuals were stuck in my head for weeks. Even after becoming a musician myself, whenever I hear their music I remember that important feeling I got that day.
PROFILE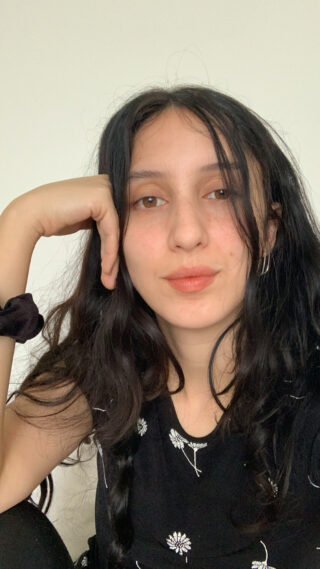 Estrella Del Sol
Estrella del Sol is the guitarist and vocalist for Mint Field. She also has a solo project under her own name. Since recording their debut EP Primeras Salidas in 2015, Mint Field has toured extensively throughout the U.S. and Mexico, including performances at SXSW and Coachella. In 2020 they renewed their band's sound with their second album, Sentimiento Mundial. The psychedelic album captivated fans of Krautrock and shoegaze, and was highly acclaimed in the international media.