FOOD
The Perfect Egg Breakfast
7 recipes by Frederik Bille Brahe
2023.04.19(Wed)
Illustration: Korey Martin
Coordination: Chieko Tomita
Text: Hiroko Yabuki
2020年11月 883号初出
Not only half-boiled eggs, but also 7 egg dishes that are the perfect breakfast.
Let's learn from Frederik, a nice chef in Copenhagen.
I love simple soft-boiled eggs. I cook them 6 minutes in boiling water, then drop them into cold water, and eat them straight away with flaky salt, black pepper, toasted rye bread, and maybe a slice of Comte cheese. The perfect breakfast. As it's such a simple dish, the eggs need to be of the best quality. I use eggs from the holistic farms ‹Søtoftes Jordbrug› and ‹Hegnsholt›. They are both organic but with different approaches. The former has transportable houses so the hens follow the cows. This means the chickens get a super high amount of protein in their diet and, at the same time, help fertilize the fields. At ‹Hegnsholt›, the farmer, Johanne Schimming, feeds the hens organic food waste. So, two different strategies that produce super delicious eggs. The egg stand is a important object in Denmark since we eat boiled eggs very much. My egg stands were made by a Danish designer, Grethe Meyer for Royal Copenhagen.
#2 Scrambled Egg 
パーフェクトなスクランブルエッグ トリュフ風味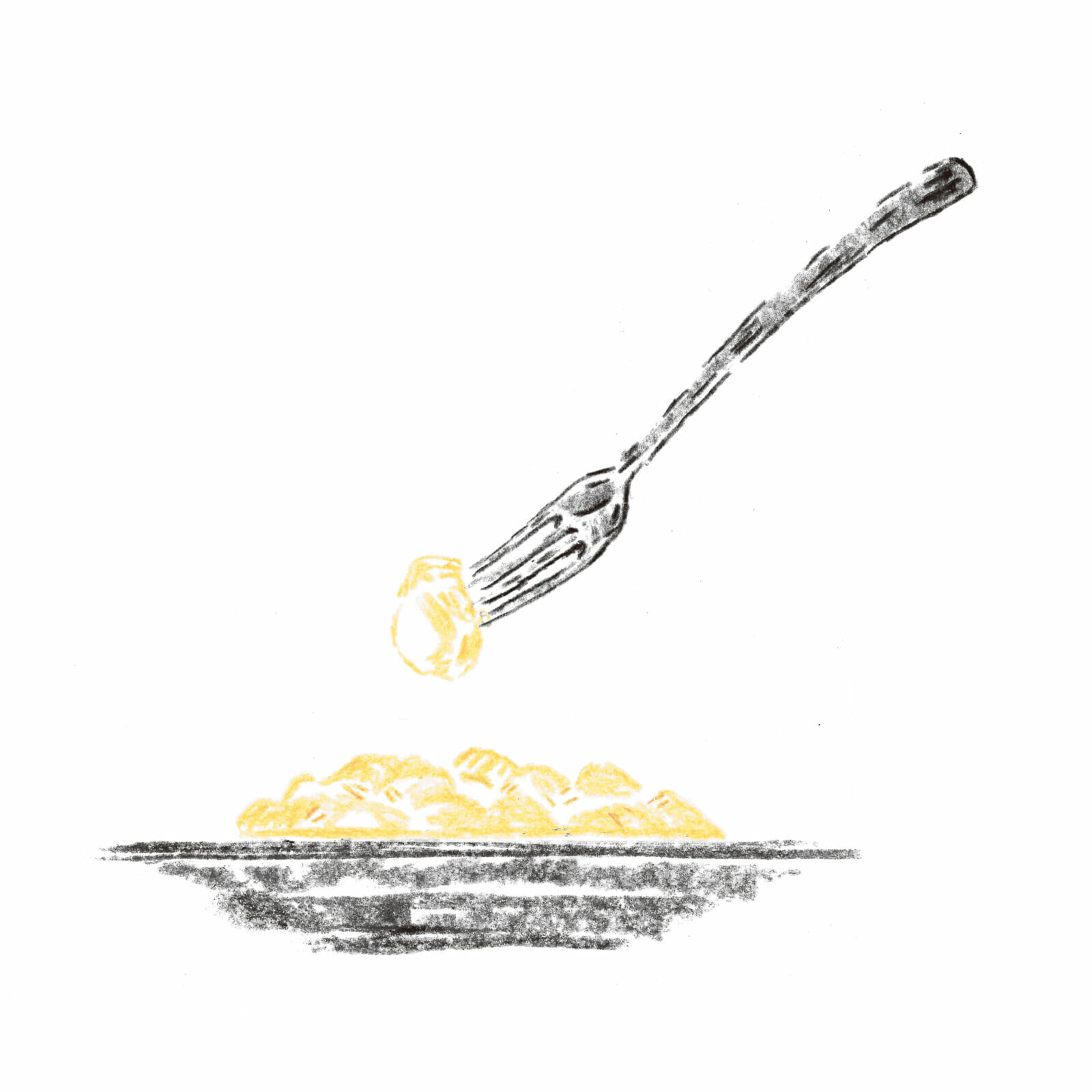 Many people say they add both milk and cream to scrambled eggs, Well, not me. I prefer just to work them slower and longer to make them perfectly creamy. It's quite easy and the stirring is the difficult part, Whisk three big eggs together in a bowl, put a thick bottomed pot on the stove, add a little (10g) butter, and let it melt. The heat should be medium to medium-low. Add the eggs to the pot and start stirring with a wooden spoon. Stir in circles from the very beginning, until the consistency is creamy like a heavy whipped cream (but be careful that you don't continue too long). They should be like creamy porridge in texture in the end. Then move the pot away from the stove and add a dash of olive oil to the pot, seasoning with salt to balance the flavor. Finally, finish them by grating the truffle on top with a truffle grater. I usually have them with a slice of sourdough bread. I remember first time I made this recipe. It was while I was a young apprentice in southern France working at a restaurant that specialized in truffle, we made them on a big cast iron stove in a heavy bottom copper pan and just stirred endlessly. The concept is the same for my scrambled eggs. Tips? Just do it! – 1 serving
#3 Fried Egg 
目玉焼き ロメスコソース添え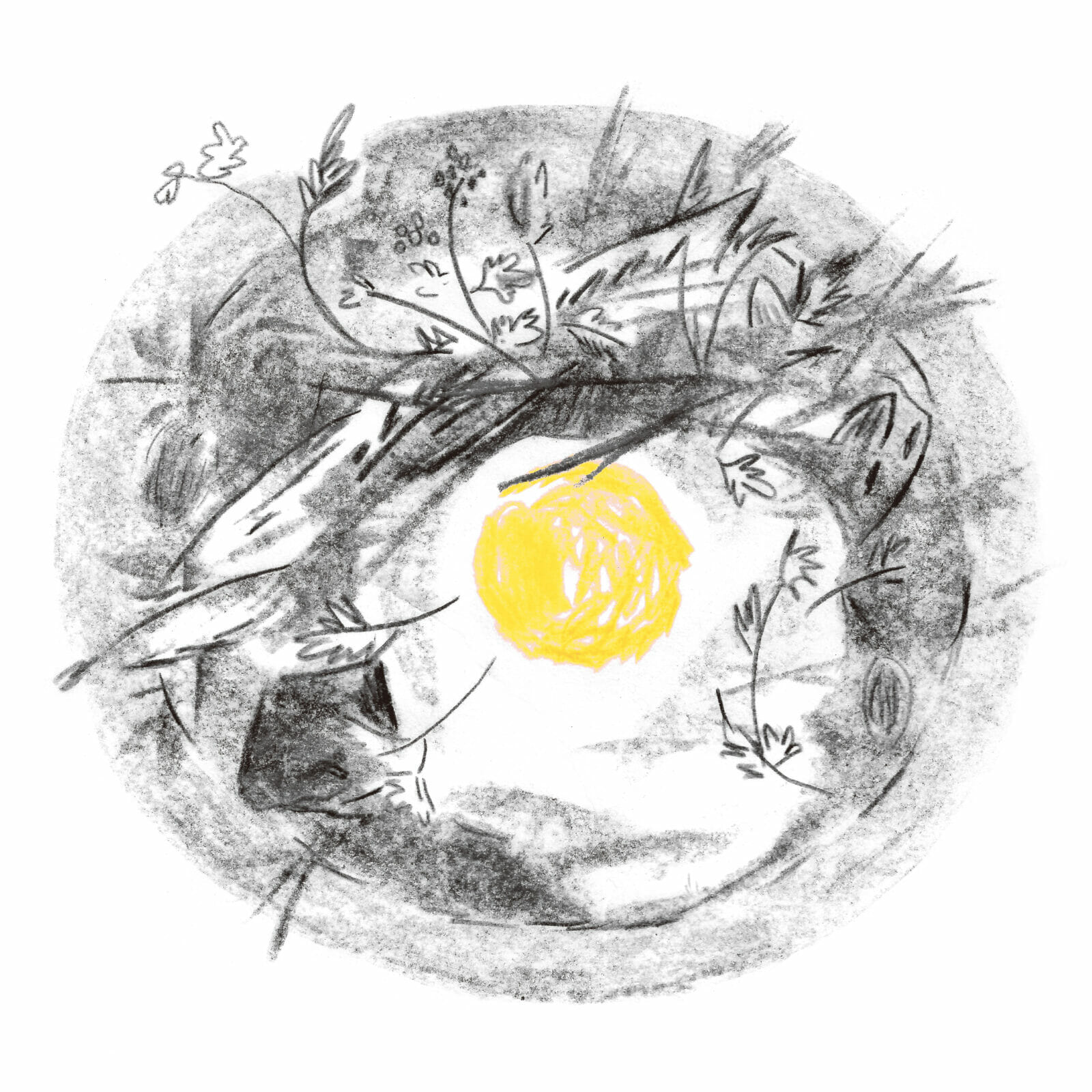 The Romesco sauce originates from Catalonia where it's used with fish but I think it's perfect for eggs. Grill 4 pieces of red capsicum, 1 red chili, and tomatoes (400g) until black. Then peel off the skin. Bake hazelnuts and almonds at 150̊C for 10 minutes, and mix them all with 2-3 fat cloves of garlic, 120ml olive oil, 1/2 tsp salt, 1/4 tsp medium hot chili flakes, 3 tsp red wine vinegar or Xeres vinegar and a pinch of sugar. With a stick, blend until it becomes a paste. Then, time to sunny side up. Set a large non-stick skillet over medium heat, adding a dash of olive oil so the frying surface is covered with a thin layer of oil. Add the eggs and fry sunny side up. You want the whites to be just set without any of the edges crisp or fried, probably for 2-3 minutes. For presentation, take your favorite plates and place a slice of bread on each – add a generous spoonful of Romesco sauce on each slice of bread and on top of that leave a perfectly fried egg so it covers the slice of bread and the sauce. This dish can be upgraded by adding a little pan seared kale, which adds a more sturdy and green profile to the dish. – 4 serving
#4 Omelette
オムレツ ハーブ、サワークリーム添え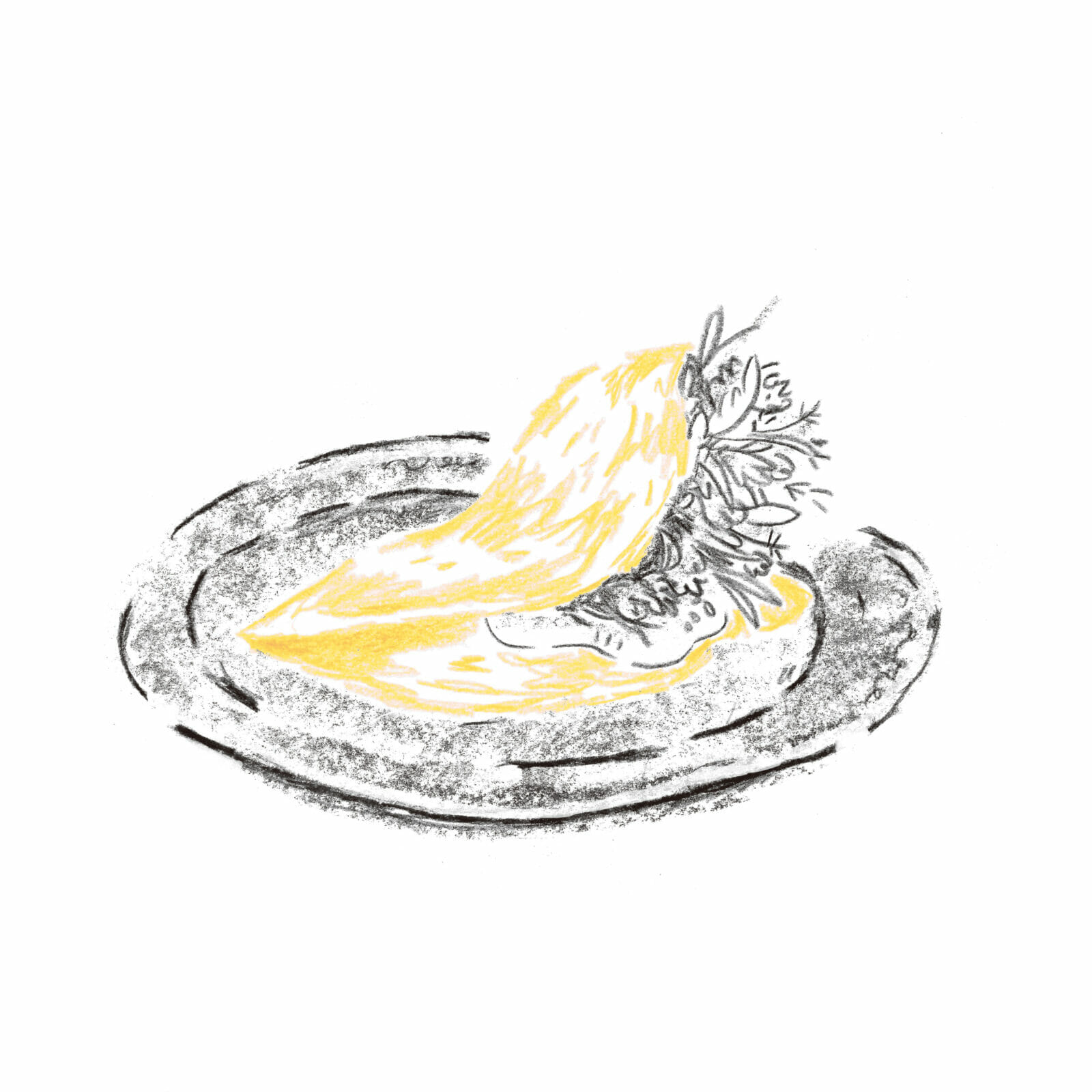 This is one of the things that I only cook for Caroline and Sonya, my wife and daughter, so I have actually never cooked it at a restaurant. Whisk 2 large eggs and 1/8 tsp of salt together with a fork in a small bowl. Put butter (20g) on a large skillet over medium heat. Once the butter melts completely and becomes foamy, add the eggs. As soon as they hit the pan, begin stirring them constantly with a heat proof spatula in a gentle circular movement. The key is to agitate the eggs over the entire surface, so you don't overcook it in certain spots. Use the other hand to tip the pan, allowing the uncooked egg to flow under the cooked egg and hit the hot surface. Once you have a good layer of set eggs, probably after 30 seconds or so, stop stirring and turn off the heat and let the heat of the pan continue to cook the eggs afterwards. When there is just a little slick runny egg left on the top, add the chopped herbs such as chives, parsley, dill, and chervil just off center together with a spoonful sour cream. Fold the omelette just off center, so you can roll it gently out of the pan onto the plate. Finish with a sprinkle of flaky salt and fresh black pepper from the mill. – 1 serving
#5 Egg Sandwich
マヨネーズで和えた卵サンド シソの葉とミニ・ロメインサラダ添え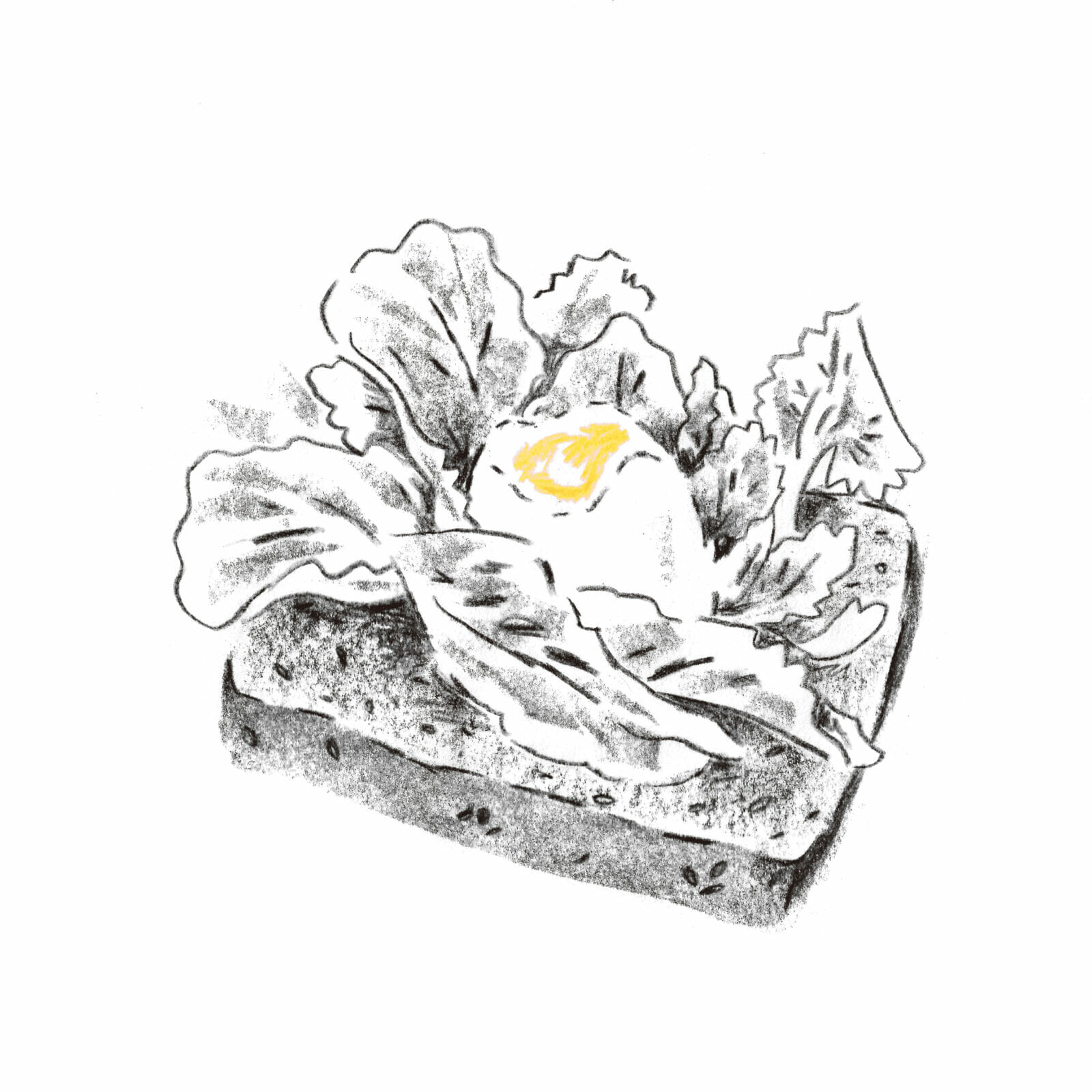 We should start with semi-boiled eggs commonly called "smiling" in Denmark. Firstly, put a casserole on the stove and fill it with water. Bring it to a boil, and when it's boiling add two eggs. After 8 minutes, transfer them with a perforated spoon into a bowl with ice cold water. After a while, drain the water of the "smiling" and dry them completely. Then peel the shells off. Make sure that there are not any shell parts left. Now we'll make the mayonnaise. Add the extra egg into the water and boil it for 1 minute and 20 seconds and cool it down afterwards. With a tablespoon, take out the boiled egg white which is left inside the shell, and put it into the bowl, adding Dijon mustard (1 tsp), lemon juice (1/2 portion) and a little salt. Mix them with a blender until the egg mixture is foamy and combined. Finally, add vegetable oil (100-150ml) little by little until the texture becomes like a heavy whipped cream. For presentation, place a slice of rye bread on a plate. On top of the bread place a spoonful of mayonnaise in the middle. Cut the "smiling" eggs in half and put them exactly on top of the mayonnaise so they stick well. Finally, dress with 8 to 12 pieces of mini romaine salad leaves and shiso leaves. Sprinkle with olive oil, salt, and black pepper. – 2 servings
#6 Poached Egg
ポーチドエッグのハラペーニョ風味オランデーズソース ハムとアボカド添え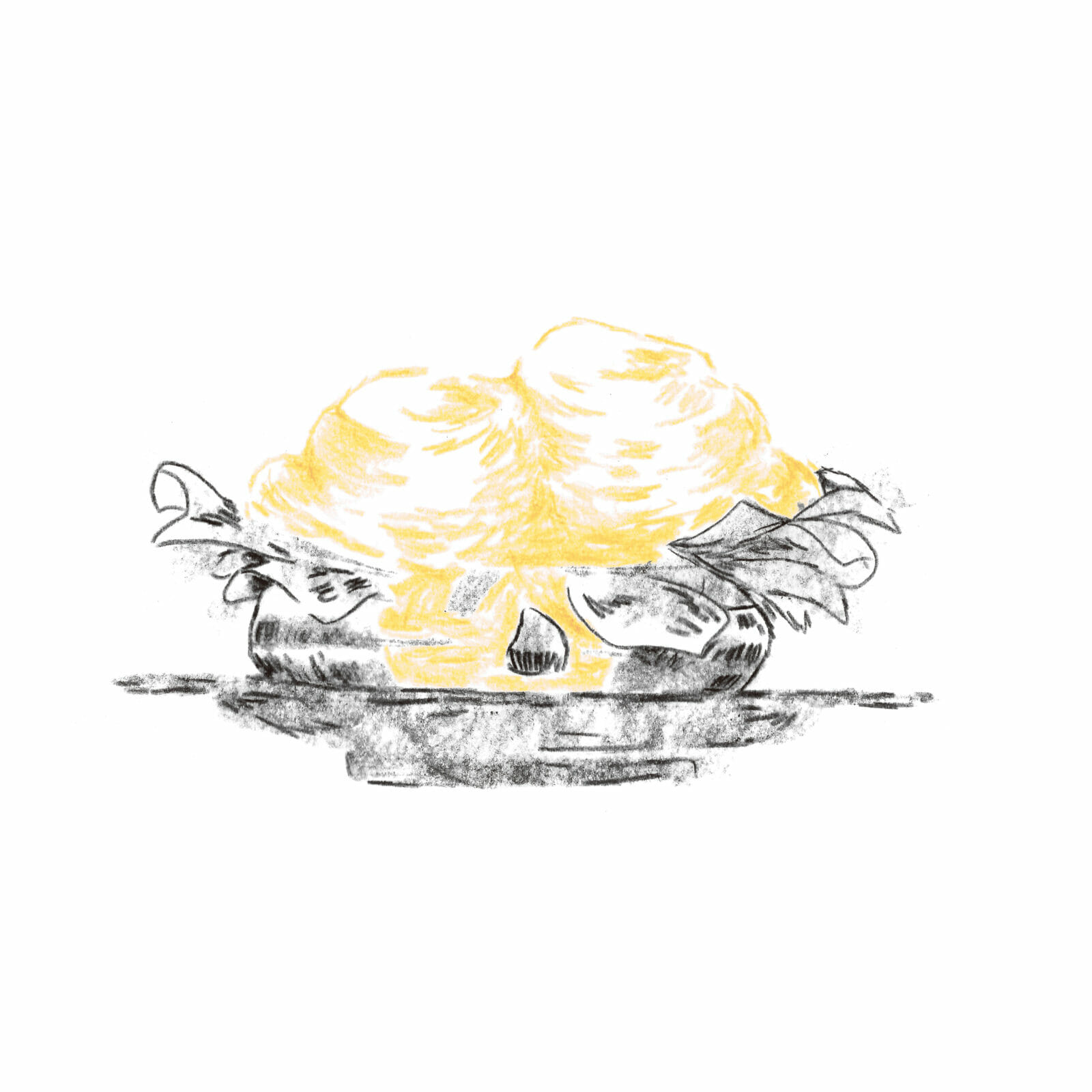 For poached eggs, fill a medium pot to a 10cm height of water and add white wine vinegar (100ml) and salt (4g). It should be both acidic and salty. Bring the water to a simmer. While waiting for the water to heat up, crack the eggs into a small bowl and, when the water is simmering and you see small bubbles, pour the eggs into the swirl as close to the water surface as possible. Let the eggs swirl into the pot and slowly poach in the hot water. When the egg whites are firm but the yolks are still soft, fish out the eggs with a perforated spoon and leave them on towel. The hollandaise is better prepared beforehand. Firstly, add butter (110g) and grapeseed oil (30ml) in a pot and start heating it over medium heat. In the meantime, start blending 3 egg yolks, white wine vinegar (20ml), and finely chopped jalapenos (20g) so it becomes thoroughly combined. Before the butter gets brown, take it off the heat and slowly add it into the blender. The texture should change as you add more butter and eventually be a thick creamy texture. Feel free to season it with a pinch of salt and a little lemon juice. Transfer the hollandaise to a bowl and store it at room temperature with cling film directly on the surface, so it doesn't form a skin while you finish your cooking. To finish, toast the muffins and place a half in the middle of a plate. Cut an avocado in half and slice it lengthwise 10-12 times like sashimi. Place them on top of the muffin, on top you add a poached egg. On top of that, add slice of white ham. Finally, pour a generous spoonful of jalapeno hollandaise on top of them. – 4 serving
#7 French Toast 
フレンチトースト ブルーベリーとホイップサワークリーム添え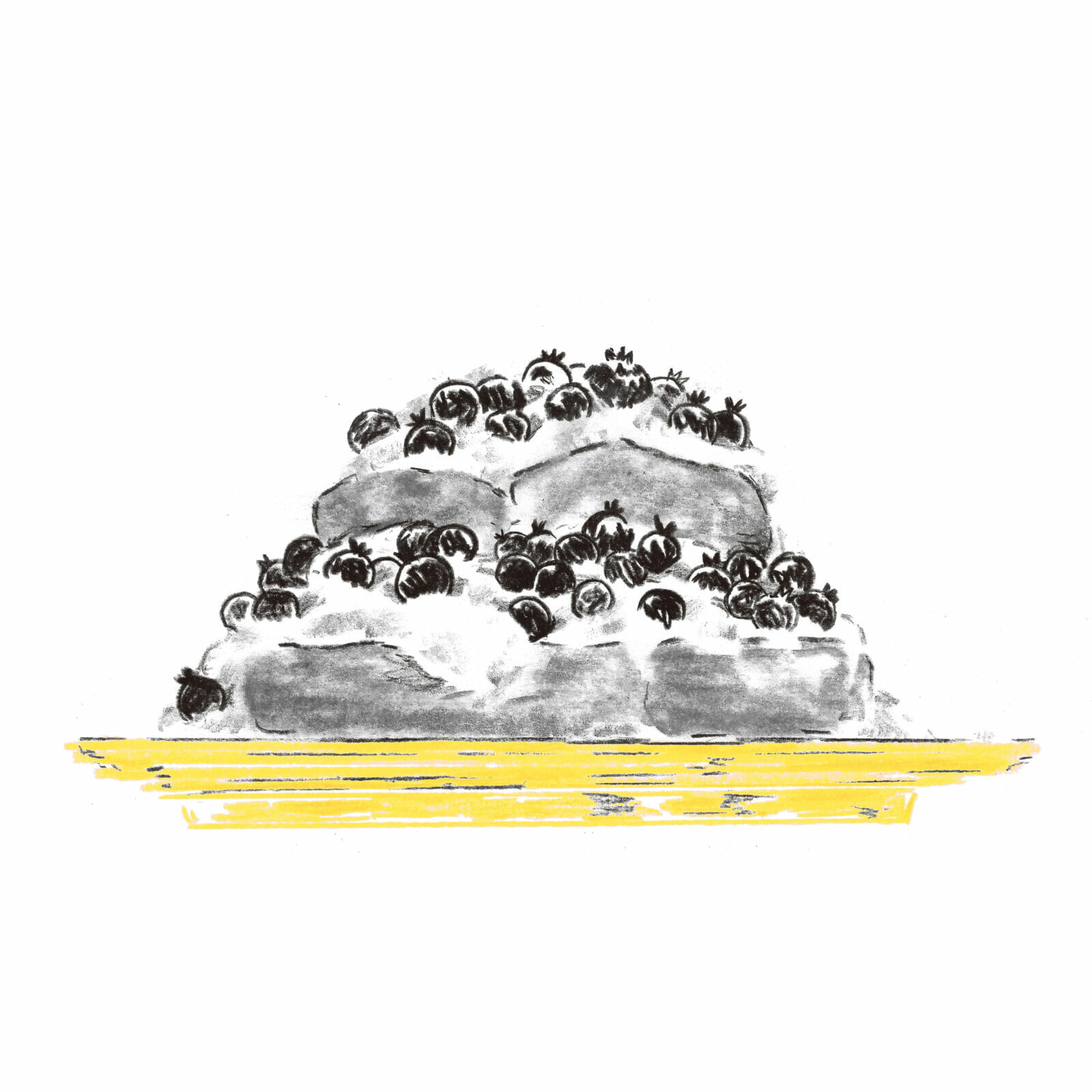 The day before: Leave two slices of pain de mie in a medium deep oven tray or another container that allows the bread to fill most of the space. Split a half portion of vanilla bean lengthwise and scrape out the seeds. Mix them into a little sugar so they dissolve in it. Heat the heavy cream and whole milk (both 125ml), vanilla seeds and the pod in a pot. Stir constantly until it reaches 80̊C. Whisk the egg yolk (50ml) with sugar (50g) until it gets fluffy. Add the hot heavy cream mixture to the egg yolk mixture, whisk while you add it. Transfer everything back into the pot and re-heat everything, while stirring, until it reaches 80̊C again. Now pour the mixture over the slices of bread and leave it in the fridge overnight for the liquid to soak into the bread. On the day: Rinse your blueberries gently in a bowl with cold water and leave them to dry in a sieve until serving. In a small bowl mix crème fraîche and cream (both 45ml). Whisk until you have a nice and firm consistency, like a heavy whipped cream. Set aside in the fridge until serving. Take the bread out of the fridge and gently dunk it into a container with brown sugar, make sure it sticks on both sides. Heat a non-stick skillet up to medium heat and add a knob of butter. When its foamy, add the bread slices and fry until they're caramelized on both sides. Transfer the bread slices to a baking tray with parchment paper and throw it into a 200̊C warm oven for 10 minutes. Take the bread out of the oven and place each slice on a plate you like. Serve it with a generous spoonful of whipped sour cream and blueberries that were marinated in salt and olive oil. – 2 servings