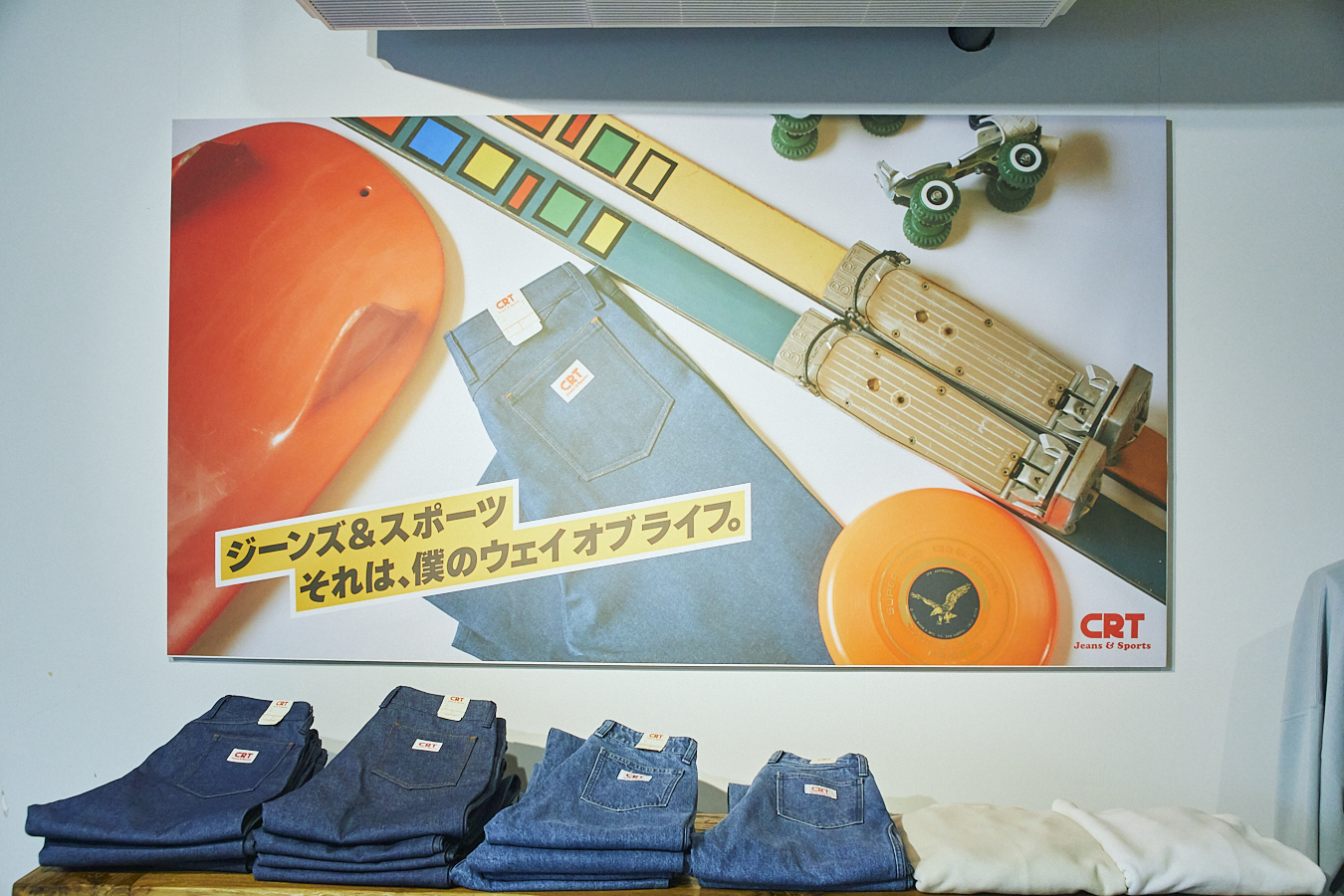 photo: Hiroshi Nakamura
text: Toromatsu
First of all, I would like to introduce my brand.
While pursuing the American culture that every Japanese admires in their youth, for some reason I came to think that "Japanese interpretation of American culture" is so very interesting.
I, "Tropical Matsumura," 34 years old, have this unusual hobby for 20 years. I love the 70's and early 80's, the Showa period is booming now but it was around the age of 14 when I started to get hooked on that era.
I saw no one dressed as a real young man in that era, and I felt like a lunatic.
I named the brand "CRT." You can find out what it means on the internet.
The reason why and how I started this project was when I met Mr. Yusuke Yatsuhashi, a senior member of the worldly-famous denim brand "KURO." Mr. Yatsuhashi took an interest in my collection of sports goods, clothes, toys, books and records as we became good friends and communicate with each other.
As our relationship developed, we were talking about the designer jeans (also known as dinner jeans back in days) that were booming in Japan in the late 70's, he then said out of excitement, "Toro-chan(how he calls me), let's make these on our own!" Moreover, Mr. Yatsuhashi told me that he would make it as my brand instead of "KURO."
From that point on, Mr. Yatsuhashi came to my house almost every day to discuss ideas over and over.
Finally as I was looking at my favorite 1976 ski magazine, I said, "I want to make ski denim." So Mr. Yatsuhashi took these sports elements and adjusted them to suit various cultures, such as the specification of a snap button that can be removed with one hand, and developed two types, a straight and a flare for me.
When I put it on, I was surprised at how modern it was while feeling nostalgia for the past. Needless to say how happy I was when I heard that it was made unisex. Mr. Yatsuhashi paid extra effort and attention in the wash-process to bring the exact atmosphere I was going after.
Plus, I was mind blown with the promotional video that fused the surfing and jeans we were working on simultaneously. It completely reproduced the unique texture of the "Big John" double-wash jeans I dream of.
Since we have the productional backbone of KURO, our greatest strength is our jeans. However, I plan to make many more.
I'm also a collector of early 80's shops and branded sweatshirts so it's only right that I also made sweatshirts. Connecting my inspirations such as Harajuku's CRUISE, Jiyugaoka's WAY OUT, and Tsujido's surf shop Poisan, all of the great stores I knew and the mood they bring. Thay're made with a fishing weaving machine, so it's so comfortable.
I'm also really into the bicycle culture in the early 70's when everyone biked, so I'm currently making a nostalgic poncho-like light outerwear so stay tuned.
If I had to express the finished jeans in short, it would be "Showa era American jeans."
I think that the reason why old Japanese music and cars are popular overseas is that people are interested in Japan's unique interpretation of Western culture. I always wondered if the same phenomenon would happen in fashion/clothes.
One of many details I would like people to pay attention to is the words "standard retail price" on the tag and the phrase "Jeans & Sports," which was often used in Japan in the past. By the way, the word "sports" was often used to express "casualty" in Japan, but in "CRT" is using its literal meaning of the word sports also. I hope to hear good responses from people who likes cycling, Wandervogel, surfing, skating, skiing, frisbee and picnics like me.
And since I'm an editorial writer who loves old magazines, I begged Mr. Yatsuhashi, "Let me work on the advertisement!"
I thought that if I had my own brand, I would be able to do whatever I wanted without being influenced by the opinions of others.
This time, even though it's an advertisement for jeans, I used a child who doesn't wear jeans, and by combining it with the appeal of other brands' products, I tried to clarify the world view of "CRT." I also used some of famous quotes for phrasing. I don't mean to brag, but with the knowledge I have been exploring for 20 years, there are many more ideas I'd like to try.
I am sorry for my clients from my "real" job as a writer. They have been neglected by me in making "CRT" business cards and stickers that they have to wait for their business.
I think there are quite a lot of people who want to start something but it doesn't go well.
I myself wonder why I didn't create a brand sooner. The process of establishing this brand is so much fun.
None of what I am experiencing now is possible without people's support around me.
I was given the opportunity by meeting Mr. Yatsuhashi, who sympathized with my worldview and who took me under his wing like a little brother.
The product is scheduled to go on sale in February next year.
We have already received many orders. Instagram followers have also increased to 247 people (2022/10/18).
I am grateful for the days I can meet various people at the exhibition. I'm also appreciative of the support all around.
I think there's a reason why I'm in this situation right now. Though I would like to warn my past-self who did not commit to his worldview.
One of the copies I made for this promo, "I decided to live actively," is a word dedicated to all CITY BOYS & GIRLS all over Japan. And it's also a message for my old self who couldn't quite grasp anything while chasing the passion for 20 years.
PROFILE
Tropical Matsumura Director of 〈CRT〉
Born in Hyogo in 1988. 
The columnist went freelance in 2017 after working as a surf magazine editor. 
From an early age, he explored Japanese and Western cultures in fashion, sports, music, toys, customs, etc. He runs a small record store called "Tropical Records" in Futako Shinchi that sells surf sounds and discos.
PROFILE
Yusuke Yatsuhashi Designer of 〈CRT〉
Born in 1981 in Tokyo. 
Established the brand "KURO" in 2010. During the RIMOWA global campaign, he was chosen as one of the "9 Creators of the World" with Takeshi Kitano. While working on different designs such as company uniforms and women's clothing, he focuses on conveying a culture around denim.